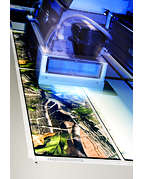 A BUSINESS GROWS
George C. Smith, Sr. laid a strong foundation for King International, which continues to grow and expand its services. The same values that made him successful are what drives his son, Chris Smith, who is now the company president.
Talent, hard work and entrepreneurial spirit -- a continuing story
While working for RJ Reynolds Tobacco Company in 1960 at just 20 years of age, Founder George C. Smith, Sr. started his passion of sign making part time. His artistic ability enabled him to start Smith Signs from the basement of his home nights and weekends.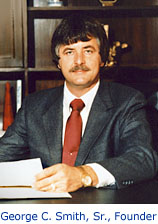 Working long hours and two jobs for several years it ultimately became a full time business in 1962. A true self-taught craftsman he specialized in gold leaf, hand lettering and wood routing on a daily basis. By the mid 60's George had picked up screen-printing by hand, mainly producing auto tags, real estate and political signage. He realized that there was a bigger need for screen-printing and started to capitalize on his new self-taught specialty.

In 1970 he started King Sign Supply and Smith Signs at a new location. Less than 1 mile from his home things were coming together in the new 3,000 sq. ft. facility. In 1972 a 1500 sq. ft. addition was added and along came printing machinery and automated cutters. His wife Shelby was an active part of the business also working 2 jobs until 1970. Their only child George (Chris)topher Smith, Jr., born 1961, was always in the middle of the business learning at a young age after school and full time in the summers.

The family decided to form a corporation so a new name was filed for in 1977. George let his son pick the name of the new business - King International Corporation. The business grew steadily. George, an avid car collector had built an 8,000 sq ft. building to house his collection. In 1980, because of the growth of the business, the 8,000 sq. ft. building was renovated and an additional 16,000 sq. ft. was added. This became the new home for King International Corporation.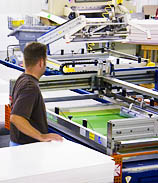 KIC was one of the very first screen-printing companies to get involved with a new type of screen-printing ink technology. UV, or Ultra Violet, is the ink that has revolutionized the screen-printing industry as we know it today.

Shortly after the move to their new location George Sr. passed unexpectedly from a massive heart attack early in 1983. Chris found himself running production with his mother handling the office duties.

Specializing in decals into the late 90's KIC has continually transformed its operations to supply a vast variety of products to clients. Now with another addition KIC has a 50,000 sq. ft. computerized facility. The company currently employs over forty skilled and dedicated workers.


KIC has stayed ahead in the industry by keeping up with modern computerized equipment as it has become available. Now that the digital world is here, KIC continues to move forward by adding digital printers and cutters. Our goal is to keep technology at the forefront so we can continue to give our customers the very best products for the best prices.
If you have any questions or need help choosing the right product please call us at 336-983-5171